Jewellery sale in the Restaurant this Thursday (25th)
Next Thursday I'll be holding another sale of my handmade jewellery between 11.30 and 1.30 in the Barnwood restaurant.
 Do pop over and take a look at the selection of sterling and fine silver items including earrings, bracelets and necklaces.
 This time, I'll also be introducing my new range of water cast silver earrings, and by popular demand, vintage silver.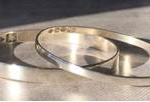 Jewellery is the most personal of purchases and I aim to provide a really personal service. As I make most of my jewellery to order at home in my Gloucestershire studio, it's important to me that you have the best commissioning and buying experience possible. I will keep you posted on the progress of your order, when it's made, being hallmarked and when I've dispatched it to you.
If you're commissioning something a bit different and bespoke, we'll discuss exactly what you're after and you can be as involved in the design process as you'd like to be – something I've found many of my customers have really valued when buying a gift for a loved one.
I know how hard it is sometimes to find the right piece in the size that actually fits you! We humans are not built 'one size fits all', so why should our jewellery be? That's why I offer bangles and rings in in a choice of profiles, widths, sizes and finishes. And if you'd prefer something slightly different or in a different size then just ask me. My jewellery is bespoke and made to order, so let me know your requirements and I'll create exactly what you want.
Take a look at some of my work on Etsy here.
Read what customers have said about Clare Maiden Jewellery.
I look forward to seeing you on Thursday
Clare
07968 373285