LUNCHTIME SALES IN THE RESTAURANT – CLARE MAIDEN JEWELLERY
Thursdays 6th & 13th December
Jewellery tends to be one of the most personal purchases we make, whether buying a gift for a special someone, a celebration, or just treating ourselves and my mission is to make it just that – really personal.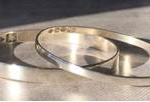 I offer bespoke sterling and fine silver jewellery, made to your size and to suit your style. I'm registered with the London Assay Office where my work is hallmarked with my own makers mark and the full UK traditional hallmark, so you are assured of quality.
Visit my shop www.etsy.com/uk/shop/ClareMaidenJewellery to see a selection of the sterling silver bangles I offer.
On 6 and 13 December, I'll have a stall in the Barnwood Restaurant with a range of earrings, necklaces, rings cufflinks and napkin rings for sale so make a note in your calendar and do pop over and take a look.
I will be selling jewellery on the day, beautifully packaged and perfect to give as gifts now, as well as taking orders for items to be made in time for Christmas. Card payments accepted.
Much of my work is bespoke, so if you'd like something truly unique, individual and made to fit perfectly then I'd love to talk and help bring your ideas to reality.
claremaiden@icloud.com                                      07968 373285