The Drama section of the Barnwood Sports and Social Club is called BADCo – Barnwood Amateur Dramatics Company.  We are a friendly group and put on a pantomime every year in February or March.
Our last production was Aladdin which took place from 27th to 29th February 2020 in the Lecture Theatre at Barnwood.  We raised £3000 for the James Hopkins Trust and a donation of £600 was made to the EDF Energy Company charity Prostate Cancer UK.
Previous recent productions and the charities supported are:
2019: Cinderella – £3250 for Meningitis Now.
2018: Jack & The Beanstalk – £2400 for Winston's Wish
2017: Mother Goose – £1000 for each of Brain Tumour Research  and CLIC Sargent
2016: The Princess & The Peastalk – £1250 for each of The Restricted Growth Association and The MPS Society.
2015: Dame Sweetly Goes West – £2000 for Headway Gloucestershire
2014:  Humpty Dumpty – £2000 for the Alzheimers Society.
THE BADCO COMMITTEE ARE HAVE BEEN MEETING REMOTELY DUE TO COVID-19 BUT HAVE NOW SADLY HAD TO CONCLUDE THAT A PANTO IN FEBRUARY 2021 IS NOT VIABLE DUE TO THE ONGOING COVID SITUATION.  More details of future plans will be shared on the  BADCo website as and when they are available.
BADCo run various planning and social activities over the summer from time to time with open meetings for the following year's production usually taking place in September.  Rehearsals are usually held on Thursday evenings between 7.30pm and 10pm and Sunday afternoons from 2.30pm to 5pm.  New members are always welcome – we would love to hear from anyone with and interest in all aspects of staging a production: writing, directing, music, scenery, costumes, front of house…and of course acting and singing!  All BADCo members must be members of the Sports & Social Club.  Junior members are welcome if accompanied by an adult who also wishes to get involved!
Contact Cathy Barker at Barnwood or Anna Eaton in the S&SC Office (details on contact page) and visit the BADCo website.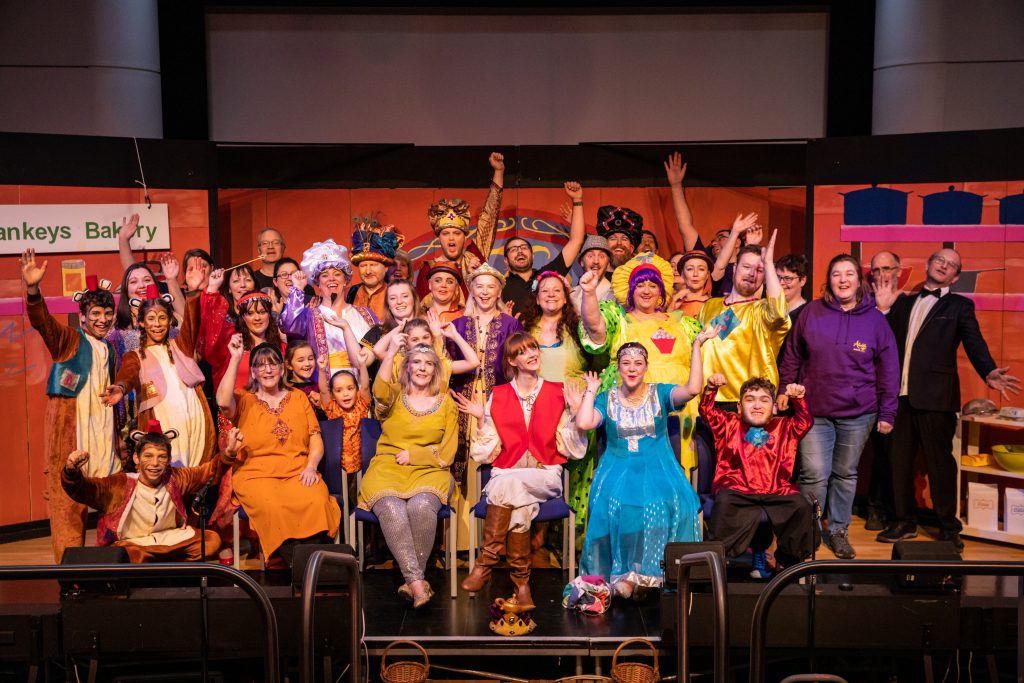 The cast & crew of Aladdin, February 2020