COVID UPDATE – following the closure of the courts during Lockdown #3 they will now be open again from Friday 16th April for use at lunchtimes or out of hours but please be aware that there are currently NO CHANGING FACILITIES AVAILABLE
The courts are open to members of the S&SC Tennis Section and players will need to ensure that any S&SC memberships that may have lapsed over lockdown will need to be renewed to enable you to play regularly.  However, the Tennis section fee is currently being waived for those members who were previously registered with the section in 2019/20.  New members should approach Peter Rose or Alwin Wiederhold to discuss joining terms. (Contact details via Outlook or ask the S&SC Office via Anna.eaton@edf-energy.com)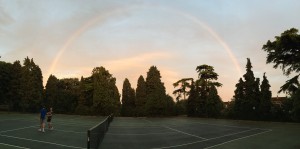 BACKGROUND
EDF Barnwood Site provide two high quality tennis courts on site.
Members have unlimited use of the courts throughout the year (during Winter months players should ensure they undertake an appropriate risk assessment on the courts surface – e.g. Frost/ice etc).
Currently there is no formal Club night as the majority of members work at the EDF Site and play socially during lunchtime.
The Section are entering one men's team into the Gloucestershire summer tennis league this year.
 HOW DO I JOIN ?
Membership costs are £10 per calendar year (but you must be a EDF Barnwood S&SC member!) and this entitles you to use the tennis facilities here in Barnwood free of charge during the year.
If you would like play in the the Gloucestershire Summer league then extra costs are applicable.
To join the section, contact Alwin Wiederhold via Outlook at Barnwood or Anna Eaton in the S&SC Office.
TENNIS COURT ACCESS & BOOKING
Tennis courts are mostly used during weekday lunchtimes and certain evenings from May to August for the league matches.
To access the tennis courts members need to sign out a key to the courts from Barnwood Security, who hold a list of current members.
Tennis courts can be booked via the EDF Outlook system – open the calendar for Barnwood Tennis Court 1 or Court 2 (note this can not be accessed outside of EDF).  You can also just turn up to play and see if the courts are free.